WHAT IS DANCESPORT?
DanceSport is a team sport. It is generally defined as partner dancing between a man and a woman combining as a couple (or groups of couples combining as a team) and using the required technique together with floorcraft and artistic interpretation to produce a highly disciplined dance performance.

Ten competitive IDSF dances include the following:
Standard: Slow Waltz, Tango, Viennese Waltz, Foxtrot, Quickstep
Latin: Samba, Cha-Ch-Cha, Rumba, Paso Doble and Jive.

WHAT IS "PROJECT GRACE"?
Project Grace is an initiative by SGDF to introduce DanceSport to young people from age of 7 to 17 in mainstream schools. This will encourage students to participate in this interesting sport, and potentially take up DanceSport on a continual basis.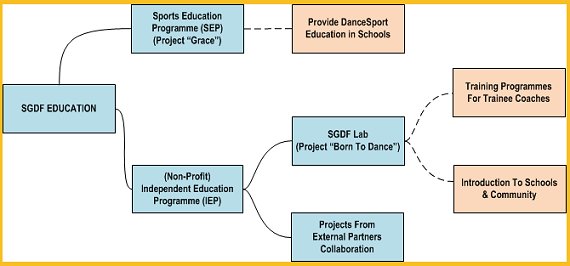 Why DanceSport?
a. Improve in physique & well-being through a sustainable game.
b. To develop alternative soft skills through team interaction and learning appropriate behaviour on the dance floor.
c. Keep youths off the street by engaging their attention in a positive activity.
d. Character building through discipline needed to excel in DanceSport.
e. This is a fun sport suitable across all ages and gender.
For details and inquiries, contact education@dancesport.org.sg

SPORTS EDUCATION PROGRAMME
Being a National Sports Association (NSA) and a registered sports service provider endorsed by SportSG, we provide qualified coaches to run Sports Education Programme (SEP) with MOE schools.

There are four (4) programme categories under the SEP open to all MOE schools:

| | |
| --- | --- |
| CATEGORIES | WHAT IS INVOLVED |
| DanceSport Introduction | To introduce DanceSport through talks and demonstrations |
| DanceSport Play 1 | To educate on basics of Latin dance based on International DanceSport Federation (IDSF) syllabus. |
| DanceSport Play 2 | To educate on basics of Standard dance based on International DanceSport Federation (IDSF) syllabus. |
| DanceSport League | The Nationals Championships: To provide students a platform to excel in their basic dance routines. |

INDEPENDENT EDUCATION PROGRAMME (IEP)
This is a non-profit initiative that offers DanceSport athletes and enthusiasts a platform to take this sport further.

Housed under IEP, SGDF Lab offers development programme for athletes with a passion for teaching to develop their coaching skills. In this programme, guided by an experienced trainer, trainees undergo practical sessions to learn to conduct basic DanceSport lessons. SGDF Lab also provides introductory DanceSport sessions to schools and public community.
IEP welcomes initiatives from SGDF members and external partners with clear objectives and constructive approaches to promote the sport.